---
Patient access to hernia repair
Hernia repair is one of the most common procedures performed by the NHS. 80,000 inguinal hernia operations are performed on the NHS each year. Hernias can be painful and debilitating for people living with them. The repair is a straight forward, low risk procedure.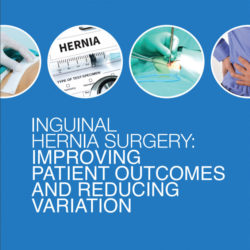 As a result of the high volume of procedures performed by the NHS, it has become an area to which commissioners have sought to reduce access to in order to curb spending. This has meant patients are left living in pain. Despite the Royal College of Surgeons publishing a report on the issue in 2018 that highlighted the impact of not treating hernia, many CCGs have continued to employ a 'watchful waiting approach' to hernia repair.
Healthcomms Consulting organise and run the Hernia Outcomes Campaign, a group of patients and clinicians that campaigns for better access to hernia repair. The group identified the key challenge to patient access as being the need to develop better evidence on the efficacy of hernia repair. In order to do this, the group agreed that a Patient Reported Outcome Measure could be used to capture data. There had previously been a PROM on hernia, but the collection method was burdensome and slow.
Healthcomms Consulting identified the possibility of a digital PROM as a solution. The technology exists to capture data quickly and easily from patients and use this to develop the evidence in relation to the treatment. Healthcomms Consulting led an outreach campaign that worked with software developers, NHS England, NHSx, AHSNs and individual clinicians to develop a plan that would support better patient data on hernia and the creation of a digital PROM.
The group then produced their 'how to guide' on the launch of a PROM. This has gained support from clinicians and NHS England.
---
Demonstrating our expertise...